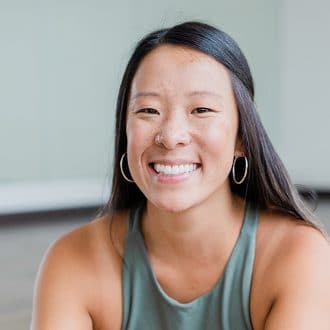 Leah Sathrum
Studio Associate/Teacher
To me, yoga represents self-love and acceptance. My journey has not been a clear path. I first discovered yoga while in college when my doctor suggested it to help with health issues. For many years, I dabbled in yoga with an inconsistent practice. It wasn't until I started coming to Firelight that I developed a passion, allowing me to solidify a connection between the mind, body, and breath. I feel honored to now share my love for yoga with others at this studio.
I completed my 200 hour Vinyasa Flow training online with Live Love Flow in Spring 2021 and a 200 hour immersive in person Vinyasa Flow training with Firelight Yoga studio in Summer 2021. In addition, I have continued education training in Sculpt and FLY 60 from Firelight.
In my classes, my goal is to create a space that combines safe sequencing with a fun playlist to inspire students to deepen their practice and develop self love. My hope is that when you step off the mat, you will be feeling refreshed, confident, and balanced.
When not at the yoga studio, you can find me snowboarding, swimming, or eating my way through Portland. I am currently working on my Masters of Social Work at Portland State University. My goal post-graduate school is to work with children and adolescents in foster care where I can incorporate trauma-informed yoga in my clinical practice.