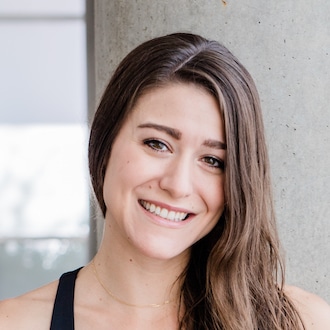 Kirstin Adams
Studio Associate/Teacher
I am grateful to have learned from incredible teachers and communities. My yoga journey began in Washington, D.C., in 2014. Coming from a background in ballet and contemporary dance, I found the movement and form of asana practice comfortingly familiar. The principles of mindful movement and meditation were like finally learning to let go of a breath that I had been unconsciously holding in for most of my life. Over the next four years, through books (I am a voracious reader) and a few courses, I began to delve deeper into yoga philosophy while making several moves around the country for my work as a Speech-Language Pathologist.
While my career as a speech therapist has been incredibly rewarding in its own ways, yoga study has brought (and continues to provide) me with opportunities for introspection, growth, and learning resilience. With each relocation, one of the first things that I looked for was a new yoga community where I would relish in participating in many different class styles with instructors from a variety of backgrounds. Two years after settling in Portland, Oregon, I completed my yoga teacher training (RYT-200) in 2020 at Firelight Yoga.
I continue to discover how yoga can positively impact all aspects of life. As a dedicated constant learner, I am now enthusiastically exploring yoga and social justice. In teaching yoga, I aim to create a welcoming and playful environment where my fellow practitioners leave feeling more empowered and more present. In my classes you can expect to stretch, flow, strengthen, and most importantly, breathe. I encourage you to move at a pace and intensity that best serves you each time you come to your mat.