Pricing
---
Our "FLY Unlimited" and "FLY All-Access" monthly autopay memberships are a great way to set it and forget it and always have access to reserve and take your favorite Firelight classes. Class Packs are perfect if you are practicing once a week or less.
Read our Purchase Policy HERE.
Special Pricing Available
We offer discounted membership pricing for students, school teachers, military, veterans, and seniors (65+).*
* Proper Identification Required.
Firelight is a great community and space to practice!
I love the variety of teachers and classes they have, which allows for everyone to find what's right for them. I had taken a longer than wanted break from yoga and I felt like I was coming back to an old friend when I stepped in the studio.
I came to yoga very late in the game and had an idea in my head about what "yoga people" were like.
Firelight blew all that out of the water; they make everyone feel welcome and safe to practice where they are at with no pretension. Their zoom classes have been life savers during lockdown. I have to give special shout outs to Chelsea, Wendy and Haley M, who all have such different styles, but make you feel as if you are in such safe hands, and that you can do more than you ever thought you could.
Firelight is a wonderful space with warm, kind, and talented instructors.
It has been my refuge since I moved to this neighborhood. Highly recommend!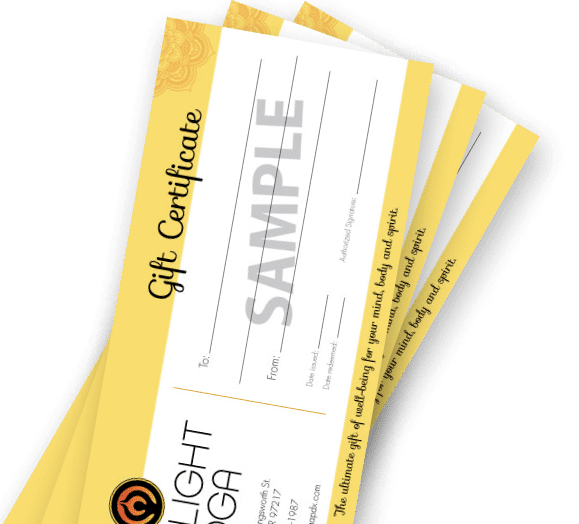 Gift Cards
---
The ultimate gift of well-being for mind, body and spirit.
Gift cards can be used for:
Classes
Retail
Workshops
Special Events
Email or physical gift cards available.