Pricing
---
Our "FLY Unlimited" and "FLY All-Access" monthly autopay memberships are a great way to set it and forget it and always have access to reserve and take your favorite Firelight classes. Class Packs are perfect if you are practicing once a week or less.
Read our Purchase Policy HERE.
Special Pricing Available
We offer discounted membership pricing for students, school teachers, military, veterans, and seniors (65+).*
* Proper Identification Required.
I have been a happy yogi practicing at Firelight for the past 6 years. I am so glad I found this studio, having tried nearly every one in town.
The atmosphere, the people, and the great community has made all the difference between a so-so experience and an exceptional one. During Covid, things have obviously changed but because of their commitment to adapting to the current situation, I have been able to maintain a great practice. Their livestream classes have saved my sanity; trying to homeschool a 10 year old and deal with all the stresses isn't easy! I'm so happy to recommend Firelight to anyone wanting to practice yoga.
I love Firelight! My home studio, I come for class nearly every day.
I love the open hearted atmosphere held by everyone! I feel safe to enjoy whatever practice I need and appreciate the range of class styles and range of times offered. Best studio in Portland by my account!
Firelight yoga has made such a profound difference in my life since I first found them when they opened over 5 years ago.
I signed up for my first class when I was injured from running and needed something to keep me active. Since then, yoga has gone from a random thing I tried to something I need in my daily routine. I've become more confident, grounded, and subsequently also have arm muscles for the first time in my life. I've since tried studios in many different cities throughout the world yet still love the feeling and comfort of returning to Firelight. EVERY teacher and staff member here is welcoming, friendly, and caring. There is absolutely no judgement. The way they've handled Covid makes me feel proud to be a member here. So thankful for this space and all the good vibes they've put out into the world!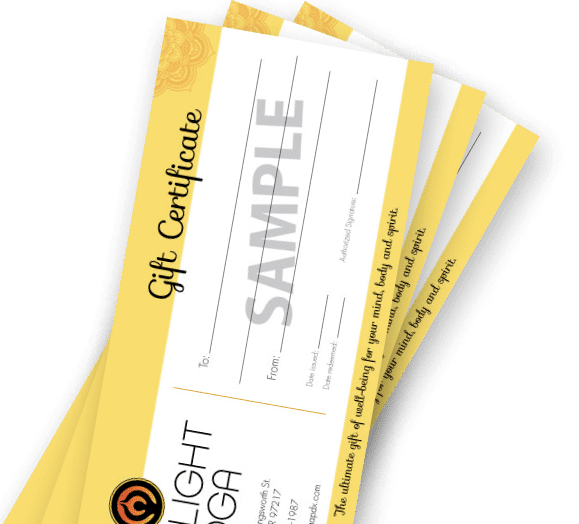 Gift Cards
---
The ultimate gift of well-being for mind, body and spirit.
Gift cards can be used for:
Classes
Retail
Workshops
Special Events
Email or physical gift cards available.