Pricing
---
Our "FLY Unlimited" and "FLY All-Access" monthly autopay memberships are a great way to set it and forget it and always have access to reserve and take your favorite Firelight classes. Class Packs are perfect if you are practicing once a week or less.
Read our Purchase Policy HERE.
Special Pricing Available
We offer discounted membership pricing for students, school teachers, military, veterans, and seniors (65+).*
* Proper Identification Required.
My Sanctuary
FLY is literally my second home! A sanctuary for my body, mind and spirit. The staff is friendly and welcoming, the studio is clean and you can find an easy flow or an ass kicking warm or room temp class any day of the week. So much love for this place.
Firelight has been my yoga home for a few years now.
At first it was one of the only hot yoga place in town that wasn't Bikram, but it quickly became much more than that. It's a community of truly kind individuals who want to help everyone feel like their absolute best selves!"
I have been a happy yogi practicing at Firelight for the past 6 years. I am so glad I found this studio, having tried nearly every one in town.
The atmosphere, the people, and the great community has made all the difference between a so-so experience and an exceptional one. During Covid, things have obviously changed but because of their commitment to adapting to the current situation, I have been able to maintain a great practice. Their livestream classes have saved my sanity; trying to homeschool a 10 year old and deal with all the stresses isn't easy! I'm so happy to recommend Firelight to anyone wanting to practice yoga.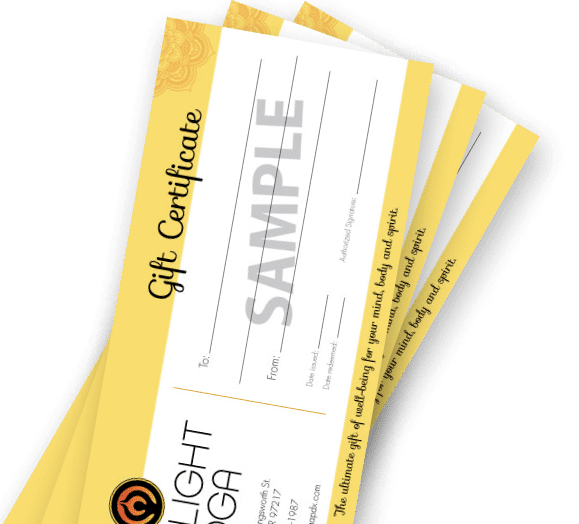 Gift Cards
---
The ultimate gift of well-being for mind, body and spirit.
Gift cards can be used for:
Classes
Retail
Workshops
Special Events
Email or physical gift cards available.