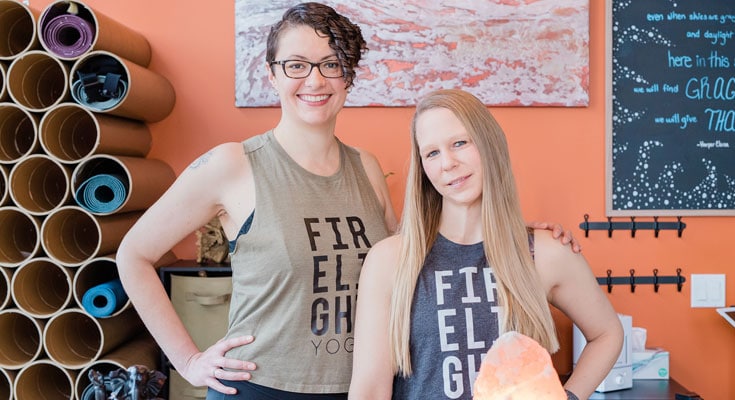 We are hiring for front desk!
11/11/21 UPDATE: Due to the incredible response to our call for resumés, we are closing the application period at this time. We will post future openings as they come up! Thank you 🙏
Firelight Yoga is looking for someone excited to join our FLY family as a Studio Associate, staffing the front desk. This role is a set, weekly schedule, with plenty of opportunities to pick up additional hours, especially heading into the holidays. We are looking for someone with flexible availability (especially on weekends and weeknights) and the ability to pick up extra shifts occasionally. Our team and environment make for a fun atmosphere and supportive workplace.
The most important part of the Studio Associate role is to support your coworkers and the students. During a front desk shift, you will be expected to check in classes, help students purchase retail or class packages, guide new students in where to go and what to know before taking class, tidy the studio and a few other "glamorous" items like laundry and cleaning props used in classes.
Our ideal new Studio Associate will be:
fully vaccinated against COVID-19
flexible to pick up extra shifts
available weekends (especially Saturday mornings)
community-driven
service-oriented
respectful
proactive
committed to wellness & safety
energetic
a team player
We would love to hire someone who knows and loves the Firelight community.
Set hours we are currently hiring for:
Fridays 5:30a – 7:30a (opening)
Saturdays 7:30a – 12:00p (opening)
Mondays 3:45 – 9:45 (closing)
(Opportunities for additional regular hours may grow in time, but we also routinely need desk hours covered currently almost every week.)
We base starting pay on an equitable pay scale determined by education and experience, ranging from $14.75 – $19.75/hr. after 20 hours of orientation training at minimum wage as set by the city of Portland. We do twice yearly employee reviews at which time staff are eligible for wage increases based on cost of living and performance.
Firelight Yoga offers benefits including:
Free unlimited yoga practice on-site or via live-stream classes when not on shift
A "plus one" person of your choice to receive 50% off regular class package prices
Free unlimited personal access to FLY TV
Retail purchases for personal use at 30% off
Employer-sponsored health insurance (eligible after 60 days of employment, once working a minimum of 20 hours/week regularly)
401k retirement savings option (eligible after 90 days of employment)
Paid sick leave (Accrued based on hours worked)
Firelight Yoga, LLC is an equal opportunity employer and does not discriminate on the basis of race, religion, color, sex, age, national origin, disability, veteran status, sexual orientation, gender identity, gender expression or any other classification protected by law.
If everything above feels aligned with your needs and desires for your next place of employment, please fill out THIS FORM and attache your resume.